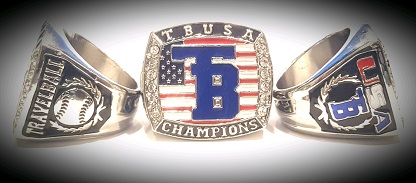 OPENING DAY BLAST XII - TALLAHASSEE, FL
MESSER SPORTS COMPLEX / TALLAHASSEE, FL
February 15, 2020 through February 16, 2020
**2020 SPRING BASEBALL SCHEDULE** (TALLAHASSEE, FLORIDA)
ENTRY FEE: 7U-8U FREE, 9U-13U $325. COME JOIN TBUSA. LIMITED SLOTS AVAILABLE DON'T WAIT AND MISS OUT REGISTER YOUR TEAM TODAY TO SAVE YOUR SPOT.
**BRACKETS POSTED**
GAME TIMES EST
OPENING WEEKEND FOR TBUSA AND FLORIDA STATE SEMINOLES .
FLORIDA STATE SEMINOLES VS NIAGARA UNIVERSITY (FRIDAY 6PM, SATURDAY 2PM and SUNDAY 1PM)
COACHES ONLY (1) TEAM COOLER ALLOWED IN PARK.
NO PERSONAL COOLERS ALLOWED IN PARK.
NO PETS ALLOWED IN PARK.

Tournament Entry Deadline: February 12, 2020 at 6 pm CST
Pay online or make checks payable to TBUSA.
Saturday games will consist of pool play. Seeding will be based on Saturdays performance leading into Sundays Championship with single elimination play. Team trophies with individual awards for 1st and 2nd place teams in each age division.
7U
8U
9U
Tallahassee Renegades
9
Tallahassee, FL
Beach Sox
9
Crestview, FL
5 Star National Buhler 9U
9
Tifton, GA
Tallahassee Heat
9
Crawfordville, FL
10U
Headland Hawks
10
Headland, AL
Tallahassee Renegades
10
Tallahassee, FL
Knuckleheads 10U
10
Thomasville, GA
TOMAHAWKS
10
Fort white, FL
Tallahassee Heat
10
Tallahassee, FL
Warriors
10
Thomasville, GA
11U
Sandlot
11
Apalachicola, FL
Tallahassee Heat
11
Tallahassee, FL
NF Grit Black-Parnell
11
Freeport, FL
Powermill 11u
11
Tallahassee, FL
DKSA ELITE 11U
11
Thomasville, GA
Tallahassee Renegades 11U
11
Tallahassee, FL
12U
Tallahassee Bombers
12
Tallahassee, FL
Tallahassee Tomahawks
12
Crawfordville, FL
Tallahassee Renegades
12
Tallahassee, FL
Pirates
12
Sneads, FL
Tallahassee HEAT 12U
12
Tallahassee, FL
5 Star National 12U
12
Tifton, GA
DKSA ELITE 12U
12
Thomasville, GA
13U
Tallahassee Tomahawks
13
Tallahassee, FL
DeKalb Lions
13
Ellenwood, GA
DKSA ELITE 13U
13
Thomasville, GA
14U
15U
16U
17U
18U

Print Brackets
9U
Tallahassee Renegades
Tallahassee Heat
-vs-
02/15/2020 - 8:00 AM
FIELD 2 (MESSER NORTH)
Beach Sox
Tallahassee Heat
-vs-
02/15/2020 - 9:40 AM
FIELD 2 (MESSER NORTH)
5 Star National Buhler 9U
Tallahassee Renegades
-vs-
02/15/2020 - 11:20 AM
FIELD 2 (MESSER NORTH)
5 Star National Buhler 9U
Beach Sox
-vs-
02/15/2020 - 1:00 PM
FIELD 2 (MESSER NORTH)
Tallahassee Heat
Beach Sox
-vs-
02/16/2020 - 8:00 AM
FIELD 2 (GM1)
5 Star National Buhler 9U
Tallahassee Renegades
-vs-
02/16/2020 - 9:40 AM
FIELD 2 (GM2)
Tallahassee Heat
Winner Game 2
-vs-
02/16/2020 - 11:20 AM
FIELD 2 (CHAMPIONSHIP)
10U
Headland Hawks
Knuckleheads 10U
-vs-
02/15/2020 - 8:00 AM
FIELD 1 (MESSER NORTH)
Warriors
Tallahassee Renegades
-vs-
02/15/2020 - 8:00 AM
FIELD 4 (MESSER NORTH)
Headland Hawks
Tallahassee Heat
-vs-
02/15/2020 - 9:40 AM
FIELD 1 (MESSER NORTH)
Tallahassee Renegades
TOMAHAWKS
-vs-
02/15/2020 - 9:40 AM
FIELD 4 (MESSER NORTH)
Tallahassee Heat
Warriors
-vs-
02/15/2020 - 11:20 AM
FIELD 1 (MESSER NORTH)
TOMAHAWKS
Knuckleheads 10U
-vs-
02/15/2020 - 11:20 AM
FIELD 4 (MESSER NORTH)
Knuckleheads 10U
Warriors
-vs-
02/16/2020 - 8:00 AM
FIELD 1 (GM1)
Headland Hawks
TOMAHAWKS
-vs-
02/16/2020 - 8:00 AM
FIELD 4 (GM2)
Tallahassee Heat
Warriors
-vs-
02/16/2020 - 9:40 AM
FIELD 1 (GM3)
Tallahassee Renegades
Headland Hawks
-vs-
02/16/2020 - 9:40 AM
FIELD 4 (GM4)
Tallahassee Heat
Winner Game 4
-vs-
02/16/2020 - 11:20 AM
FIELD 1 (CHAMPIONSHIP)
11U
Tallahassee Heat
DKSA ELITE 11U
-vs-
02/15/2020 - 8:00 AM
FIELD 8 (MESSER SOUTH)
Sandlot
Tallahassee Heat
-vs-
02/15/2020 - 9:40 AM
FIELD 8 (MESSER SOUTH)
Powermill 11u
NF Grit Black-Parnell
-vs-
02/15/2020 - 11:20 AM
FIELD 8 (MESSER SOUTH)
Tallahassee Renegades 11U
DKSA ELITE 11U
-vs-
02/15/2020 - 11:20 AM
FIELD 10 (MESSER SOUTH)
Powermill 11u
Sandlot
-vs-
02/15/2020 - 1:00 PM
FIELD 8 (MESSER SOUTH)
Tallahassee Renegades 11U
NF Grit Black-Parnell
-vs-
02/15/2020 - 2:40 PM
FIELD 8 (MESSER SOUTH)
DKSA ELITE 11U
Powermill 11u
-vs-
02/16/2020 - 9:40 AM
FIELD 8 (GM1)
Sandlot
Tallahassee Renegades 11U
-vs-
02/16/2020 - 9:40 AM
FIELD 9 (GM2)
NF Grit Black-Parnell
Winner Game 1
-vs-
02/16/2020 - 11:20 AM
FIELD 8 (GM3)
Tallahassee Heat
Winner Game 2
-vs-
02/16/2020 - 11:20 AM
FIELD 9 (GM4)
Winner Game 3
Winner Game 4
-vs-
02/16/2020 - 1:00 PM
FIELD 8 (CHAMPIONSHIP)
12U
5 Star National 12U
Tallahassee HEAT 12U
-vs-
02/15/2020 - 8:00 AM
FIELD 10 (MESSER SOUTH)
5 Star National 12U
Tallahassee Renegades
-vs-
02/15/2020 - 9:40 AM
FIELD 10 (MESSER SOUTH)
Tallahassee Tomahawks
DKSA ELITE 12U
-vs-
02/15/2020 - 9:40 AM
FIELD 9 (MESSER SOUTH)
Tallahassee HEAT 12U
Pirates
-vs-
02/15/2020 - 11:20 AM
FIELD 9 (MESSER SOUTH)
Tallahassee Tomahawks
Tallahassee Bombers
-vs-
02/15/2020 - 1:00 PM
FIELD 9 (MESSER SOUTH)
Tallahassee Renegades
DKSA ELITE 12U
-vs-
02/15/2020 - 1:00 PM
FIELD 10 (MESSER SOUTH)
Tallahassee Bombers
Pirates
-vs-
02/15/2020 - 2:40 PM
FIELD 9 (MESSER SOUTH)
Tallahassee HEAT 12U
Tallahassee Tomahawks
-vs-
02/16/2020 - 8:00 AM
FIELD 8 (GM1)
DKSA ELITE 12U
Tallahassee Renegades
-vs-
02/16/2020 - 8:00 AM
FIELD 9 (GM2)
Tallahassee Bombers
Pirates
-vs-
02/16/2020 - 8:00 AM
FIELD 10 (GM3)
Tallahassee Renegades
Tallahassee Bombers
-vs-
02/16/2020 - 9:40 AM
FIELD 10 (GM4)
5 Star National 12U
Winner Game 1
-vs-
02/16/2020 - 11:20 AM
FIELD 10 (GM5)
Winner Game 4
Winner Game 5
-vs-
02/16/2020 - 1:00 PM
FIELD 10 (CHAMPIONSHIP)
13U
Tallahassee Tomahawks
DKSA ELITE 13U
-vs-
02/15/2020 - 8:00 AM
FIELD 7 (MESSER SOUTH)
Tallahassee Tomahawks
DeKalb Lions
-vs-
02/15/2020 - 9:50 AM
FIELD 7 (MESSER SOUTH)
DKSA ELITE 13U
DeKalb Lions
-vs-
02/15/2020 - 11:40 AM
FIELD 7 (MESSER SOUTH)
DKSA ELITE 13U
DeKalb Lions
-vs-
02/16/2020 - 8:00 AM
FIELD 7 (GM1)
Tallahassee Tomahawks
DKSA ELITE 13U
-vs-
02/16/2020 - 9:50 AM
FIELD 7 (CHAMPIONSHIP)
| | | | | |
| --- | --- | --- | --- | --- |
| Winner Game 2 | 0-0-0 | 0-0-0 | | |
| 5 Star National Buhler 9U | 2-0-0 | 0-0-0 | 1 | 1 |
| Tallahassee Heat | 2-0-1 | 0-0-0 | 2 | 2 |
| Beach Sox | 0-2-1 | 0-0-0 | 3 | 3 |
| Tallahassee Renegades | 0-2-0 | 0-0-0 | 4 | 4 |
Games
| | | | | |
| --- | --- | --- | --- | --- |
| 2-15 | Tallahassee Renegades | 2 | Tallahassee Heat | 10 |
| 2-15 | Beach Sox | 3 | Tallahassee Heat | 3 |
| 2-15 | 5 Star National Buhler 9U | 8 | Tallahassee Renegades | 7 |
| 2-15 | 5 Star National Buhler 9U | 8 | Beach Sox | 0 |
| 2-16 | Tallahassee Heat | 5 | Beach Sox | 4 |
| 2-16 | 5 Star National Buhler 9U | - | Tallahassee Renegades | - |
| 2-16 | Tallahassee Heat | - | Winner Game 2 | - |
| | | | | |
| --- | --- | --- | --- | --- |
| Winner Game 4 | 0-0-0 | 0-0-0 | | |
| Tallahassee Heat | 3-0-0 | 0-0-0 | 1 | 1 |
| Tallahassee Renegades | 1-0-1 | 0-0-0 | 2 | 2 |
| Headland Hawks | 2-1-0 | 0-0-0 | 3 | 3 |
| Warriors | 1-2-1 | 0-0-0 | 4 | 5 |
| Knuckleheads 10U | 1-2-0 | 0-0-0 | 5 | 4 |
| TOMAHAWKS | 0-3-0 | 0-0-0 | 6 | 6 |
Games
| | | | | |
| --- | --- | --- | --- | --- |
| 2-15 | Headland Hawks | 9 | Knuckleheads 10U | 0 |
| 2-15 | Warriors | 6 | Tallahassee Renegades | 6 |
| 2-15 | Headland Hawks | 1 | Tallahassee Heat | 2 |
| 2-15 | Tallahassee Renegades | 7 | TOMAHAWKS | 4 |
| 2-15 | Tallahassee Heat | 10 | Warriors | 1 |
| 2-15 | TOMAHAWKS | 1 | Knuckleheads 10U | 11 |
| 2-16 | Knuckleheads 10U | 4 | Warriors | 7 |
| 2-16 | Headland Hawks | 9 | TOMAHAWKS | 4 |
| 2-16 | Tallahassee Heat | 13 | Warriors | 5 |
| 2-16 | Tallahassee Renegades | - | Headland Hawks | - |
| 2-16 | Tallahassee Heat | - | Winner Game 4 | - |
| | | | | |
| --- | --- | --- | --- | --- |
| Winner Game 2 | 0-0-0 | 0-0-0 | | |
| Winner Game 3 | 0-0-0 | 0-0-0 | | |
| Winner Game 4 | 0-0-0 | 0-0-0 | | |
| Winner Game 1 | 0-0-0 | 0-0-0 | | |
| NF Grit Black-Parnell | 2-0-0 | 0-0-0 | 1 | 1 |
| Tallahassee Heat | 2-0-0 | 0-0-0 | 2 | 2 |
| Sandlot | 2-1-0 | 0-0-0 | 3 | 3 |
| DKSA ELITE 11U | 1-1-0 | 0-0-0 | 4 | 4 |
| Powermill 11u | 0-2-0 | 0-0-0 | 5 | 5 |
| Tallahassee Renegades 11U | 0-3-0 | 0-0-0 | 6 | 6 |
Games
| | | | | |
| --- | --- | --- | --- | --- |
| 2-15 | Tallahassee Heat | 8 | DKSA ELITE 11U | 3 |
| 2-15 | Sandlot | 1 | Tallahassee Heat | 6 |
| 2-15 | Powermill 11u | 2 | NF Grit Black-Parnell | 11 |
| 2-15 | Tallahassee Renegades 11U | 6 | DKSA ELITE 11U | 8 |
| 2-15 | Powermill 11u | 0 | Sandlot | 7 |
| 2-15 | Tallahassee Renegades 11U | 1 | NF Grit Black-Parnell | 16 |
| 2-16 | DKSA ELITE 11U | - | Powermill 11u | - |
| 2-16 | Sandlot | 9 | Tallahassee Renegades 11U | 3 |
| 2-16 | NF Grit Black-Parnell | - | Winner Game 1 | - |
| 2-16 | Tallahassee Heat | - | Winner Game 2 | - |
| 2-16 | Winner Game 3 | - | Winner Game 4 | - |
| | | | | |
| --- | --- | --- | --- | --- |
| Winner Game 4 | 0-0-0 | 0-0-0 | | |
| Winner Game 1 | 0-0-0 | 0-0-0 | | |
| Winner Game 5 | 0-0-0 | 0-0-0 | | |
| 5 Star National 12U | 2-0-0 | 0-0-0 | 1 | 1 |
| Tallahassee HEAT 12U | 2-1-0 | 0-0-0 | 2 | 4 |
| Tallahassee Renegades | 2-2-0 | 0-0-0 | 3 | 6 |
| Tallahassee Bombers | 3-1-0 | 1-8-0 | 4 | 2 |
| DKSA ELITE 12U | 1-2-0 | 3-3-0 | 5 | 3 |
| Tallahassee Tomahawks | 1-2-0 | 0-0-0 | 6 | 5 |
| Pirates | 0-3-0 | 0-0-0 | 7 | 7 |
Games
| | | | | |
| --- | --- | --- | --- | --- |
| 2-15 | 5 Star National 12U | 9 | Tallahassee HEAT 12U | 2 |
| 2-15 | 5 Star National 12U | 14 | Tallahassee Renegades | 1 |
| 2-15 | Tallahassee Tomahawks | 5 | DKSA ELITE 12U | 2 |
| 2-15 | Tallahassee HEAT 12U | 15 | Pirates | 0 |
| 2-15 | Tallahassee Tomahawks | 6 | Tallahassee Bombers | 16 |
| 2-15 | Tallahassee Renegades | 1 | DKSA ELITE 12U | 6 |
| 2-15 | Tallahassee Bombers | 11 | Pirates | 4 |
| 2-16 | Tallahassee HEAT 12U | 13 | Tallahassee Tomahawks | 5 |
| 2-16 | DKSA ELITE 12U | 4 | Tallahassee Renegades | 5 |
| 2-16 | Tallahassee Bombers | 13 | Pirates | 4 |
| 2-16 | Tallahassee Renegades | 11 | Tallahassee Bombers | 1 |
| 2-16 | 5 Star National 12U | - | Winner Game 1 | - |
| 2-16 | Winner Game 4 | - | Winner Game 5 | - |
| | | | | |
| --- | --- | --- | --- | --- |
| Tallahassee Tomahawks | 3-0-0 | 0-0-0 | 1 | 1 |
| DKSA ELITE 13U | 2-2-0 | 4-2-1 | 2 | 2 |
| DeKalb Lions | 0-3-0 | 0-0-0 | 3 | 3 |
Games
| | | | | |
| --- | --- | --- | --- | --- |
| 2-15 | Tallahassee Tomahawks | 12 | DKSA ELITE 13U | 3 |
| 2-15 | Tallahassee Tomahawks | 14 | DeKalb Lions | 0 |
| 2-15 | DKSA ELITE 13U | 13 | DeKalb Lions | 1 |
| 2-16 | DKSA ELITE 13U | 9 | DeKalb Lions | 1 |
| 2-16 | Tallahassee Tomahawks | 5 | DKSA ELITE 13U | 4 |
Event Address: 2830 JACKSON BLUFF RD, TALLAHASSEE, FL 32304

Map and Directions
Weather: