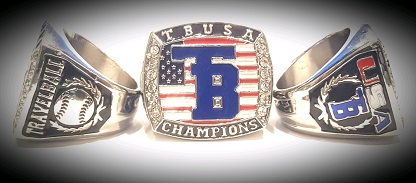 BIG STICK SMASH XI - DOTHAN, AL
JAMES OATES SPORTS COMPLEX / DOTHAN, AL
April 18, 2020 through April 19, 2020
**2020 SPRING BASEBALL SCHEDULE** (DOTHAN, ALABAMA)
ENTRY FEE: 7U-8U FREE, 9U-13U $325. COME JOIN TBUSA. LIMITED SLOTS AVAILABLE DON'T WAIT AND MISS OUT REGISTER YOUR TEAM TODAY TO SAVE YOUR SPOT.
City of Dothan has Canceled all sporting events through May 9th.
We at TBUSA believe these kids need some normalcy and apologize that we cannot provide that opportunity.
We are continuing looking for other venues that will allow us to play at which time if we find one we will move tournaments
May God Bless your families and guide the President during these difficult times
We will be back
God Bless America
COACHES ONLY (1) TEAM COOLER ALLOWED IN PARK.
NO PERSONAL COOLERS ALLOWED IN PARK.
NO PETS ALLOWED IN PARK.

Tournament Entry Deadline: April 15, 2020 at 6 pm CST
Pay online or make checks payable to TBUSA.
Saturday games will consist of pool play. Seeding will be based on Saturdays performance leading into Sundays Championship with single elimination play. Team trophies with individual awards for 1st and 2nd place teams in each age division.
7U
South Walton Hawks
7
Santa Rosa Beach, FL
8U
Beachsox Baseball
8
Navarre, FL
Tallahassee Heat 8U
8
Tallahassee, FL
SC Prospects 8U
7
Headland, AL
Dirtbags
8
Enterprise, AL
Troy Warriors
8
Troy, AL
Panhandle Elite
8
Pace, FL
9U
850 Waves
9
Lynn Haven, FL
Chaos 9u
9
Enterprise, AL
9
Slocomb, AL
Avengers 9U
9
Enterprise, AL
South Alabama Rattlers
9
Rehobeth, AL
Tallahassee Renegades
9
Tallahassee, FL
Southern Closers 9U
8
Headland, AL
Beach Sox
9
Crestview, FL
South Walton Hawks 9u
9
Santa Rosa Beach, FL
10U
Headland Hawks
10
Headland, AL
South Walton Hawks 10U
10
Panhandle, FL
Southern Savage
10
Ozark, AL
Tallahassee Renegades
10
Tallahassee, FL
Tallahassee Bombers
10
Tallahassee, FL
NWF Baseball
10
Southport, FL
Beach Sox 10U
10
Shalimar, FL
Chaos
10
Enterprise, AL
11U
Panama City Ballers
11
Panama City Beach, FL
Chiefs
11
Blountstown, FL
Storm Baseball
11
Panama City, FL
Regulators
11
dothan, AL
Crush Baseball
11
Florida Panhandle, FL
Beach SOX 11u
11
Destin, FL
NWF Bulldogs
11
Panhandle, FL
Florida Prospects Baseball
11
Panama City, FL
Tallahassee Bombers
11
Tallahassee, FL
American Thunder
11
Dothan, AL
Enterprise Express 11U
11
Enterprise, AL
PC Beach Braves
11
Panama City Beach, FL
Southern Closers
11
Dothan, AL
Sandlot
11
Apalachicola, FL
12U
High Voltage
12
Abbeville, AL
Tri County Lightning
12
Marianna, FL
Auburn Cubs
12
Auburn, AL
13U South GA Mariners, Inc.
12
Leesburg, GA
Chaos
12
Enterprise, AL
Tallahassee Bombers
12
Tallahassee, FL
Slammers
12
Ozark, AL
WSA 12U RED
12
Dothan, AL
Bay County Cubs 12U
12
Southport, FL
Tallahassee Renegades
12
Tallahassee, FL
Line Drive 12U
12
Sylvester, GA
Pirates
12
Sneads, FL
Attack Baseball
11
PENSACOLA, FL
13U
Outlaws 13U
13
Enterprise, AL
Tallahassee Bombers
13
Tallahassee, FL
Enterprise Express 13u
12
enterprise, AL
5 Star National Haynes Gold
13
Tifton, GA
Bay County Bandits
13
Panama City, FL
Dothan Bandits
13
MIDLAND CITY, AL
Lynn Haven Dolphins
13
Lynn Haven, FL, FL
14U
Tallahassee Bombers
14
Tallahassee, FL
Panhandle Trojans
14
Panama City, FL
15U
16U
17U
18U

Print Brackets
Brackets have not been set. Please check back closer to the event.
Please check back after the tournament begins to see the results.
Event Address: 300 TAYLOR RD, DOTHAN, AL 36303

Map and Directions
Weather: