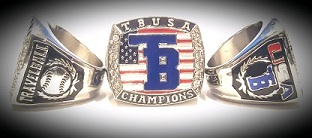 TBUSA BATTER UP - DOTHAN, AL
JAMES OATES SPORTS COMPLEX / DOTHAN, AL
May 15, 2021 through May 16, 2021
**2021 SPRING BASEBALL SCHEDULE** (DOTHAN, ALABAMA)
ENTRY FEE: 7U-8U FREE, 9U-15U $325. COME JOIN TBUSA. LIMITED SLOTS AVAILABLE DON'T WAIT AND MISS OUT REGISTER YOUR TEAM TODAY TO SAVE YOUR SPOT.

COACHES ONLY (1) TEAM COOLER ALLOWED IN PARK.
NO PERSONAL COOLERS ALLOWED IN PARK.
NO PETS ALLOWED IN PARK.
Tournament Entry Deadline: May 12, 2021 at 6 pm CST
Pay online or make checks payable to TBUSA.
Saturday games will consist of pool play. Seeding will be based on Saturdays performance leading into Sundays Championship with single elimination play. Team trophies with individual awards for 1st and 2nd place teams in each age division.
7U
Okaloosa Razorbacks
7
Niceville, FL
8U
FLORIDA GRIND 8u
8
Lynn Haven, FL
Allstar Athletics Arrows
8
Andalusia, AL
LA Sliders
8
Skipperville, AL
Dirtbags 8u
8
Enterprise, AL
Titans
8
Troy, AL
Ozark Express
8
Ozark, AL
8U South GA Mariners, Inc.-Culpepper
8
Leesburg, GA
Scrappers 8U
8
Dothan, AL
9U
Capital City Titans
9
Tallahassee, FL
Tallahassee Heat-Hyde/Henry
9
Tallahassee, FL
Wiregrass Bolts
9
Wiregrass Bolts Dothan Al., AL
Dirtbags 9U
9
Enterprise, AL
Diamond Athletics 9U
9
Enterprise, AL
Wiregrass Wolverines
9
Dothan, AL
Traveling Eagles Maroon
9
Niceville, FL
10U
Diamond Athletics 10U
10
Enterprise, AL
Outlaws
10
Pace, FL
Crushers
10
Ozark, AL
South Alabama Rattlers
10
Rehobeth, AL
Hornets
10
Ashford, AL
Southern Closers
10
Dothan, AL
Avengers 10u
10
Enterprise, AL
11U
Strikeforce
11
Albany, GA
Chaos 11-U
11
Enterprise, AL
South Walton Hawks 11u
11
Destin, FL
Overdrive
11
Rehobeth, AL
DBacks
11
Headland, AL, GA
Molino Prime
11
Molino, FL
Thomasville Braves
11
ochlocknee, GA
Line Drive 11U Blue
11
Sylvester, GA
Buckhorn Boys
11
Baxley, GA
SGSA
11
Moultrie, GA, GA
Sandlot Legends
11
Ashford, AL
Columbus Dream 11U
11
Columbus, GA
12U
DKSA ELITE 12U
12
Thomasville, GA
Capital City Titans
12
Tallahassee, FL
Southern Flames
12
Enterprise, AL
Beehive Stars 12u
12
Auburn, AL
Miken Magic 12U
12
Albany, GA
Diamond Athletics
12
Enterprise, AL
Gulf Coast Avengers
12
Pace, FL
Storm Baseball
12
Panama City, FL
Hustle Scott Hemond Baseball
12
Destin, FL
Camp-84
12
Andalusia, AL
Florida Prospects Baseball
12
Panama City, FL
Southen Closers
12
Dothan, AL
Tallahassee Renegades 12U
12
Tallahassee, FL
WFBA ReefSharks
12
Cantonment, FL
Powermill
12
Tallahassee, FL
Daphne Trojans
12
Daphne, AL
Hard Knocks Prime 9
12
Dothan, AL
American Thunder
12
Dothan, AL
13U
Grind 13U Thomas
13
Panama city, FL
Grind 13U Rowe
13
Panama city, FL
Wiregrass Indians
13
Headland, AL
Back 40 Sliders
13
Hahira, GA
PC FALCONS
13
Panama City fl, FL
Coastal Bandits
13
Crawfordville, FL
Dothan Expos 13U
13
MIDLAND CITY, AL
North Florida Grit
13
Freeport, FL
Diamond Athletics - Chaos
13
Enterprise, AL
Hard Knocks Prime 9
13
Dothan, AL
Legends
13
Pace, FL
Pirates Baseball
13
Sneads, FL
14U
Canes Southeast Prospects
14
Greenbow, AL
Slammers
13
Ozark, AL
Wiregrass Cardinals 14U
14
Newville, AL
Pandemonium Baseball
14
FITZGERALD, GA
DKSA ELITE 13U
13
Thomasville, GA
Hard Knocks Prime 9
14
Dothan, AL
15U
EAST COAST SOX FL 15U
15
Niceville, FL
Line Drive 15U Hannah
15
Sylvester, GA
Allstar Athletics
15
Andalusia, AL
Perdido Bay 15U
15
Pensacola, FL
Hard Knocks Prime 9
15
Dothan, AL
DKSA 14U
14
Thomasville, GA
16U
17U
18U

Print Brackets
Brackets have not been set. Please check back closer to the event.
Please check back after the tournament begins to see the results.
Event Address: 300 TAYLOR RD., DOTHAN, AL 36303

Map and Directions
Weather:
DOTHAN WEATHER